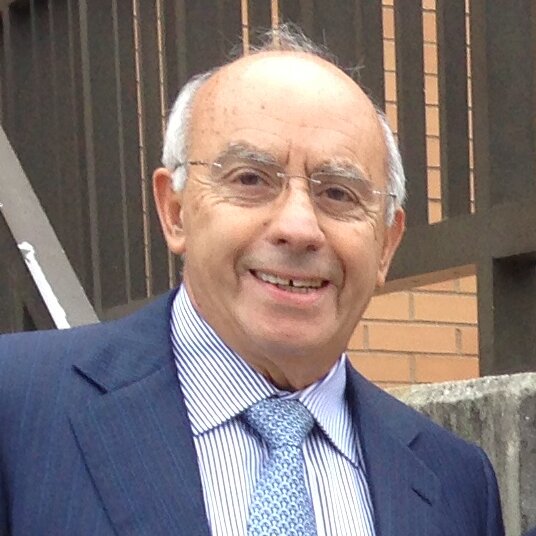 Visitation
5:00 pm - 8:00 pm
Tuesday, July 25, 2023
The Metropolitan Cathedral of St. John The Theologian
353 E Clinton Ave
Tenafly, New Jersey, United States

Get Directions
Funeral Service
11:00 am - 12:00 pm
Wednesday, July 26, 2023
The Metropolitan Cathedral of St. John The Theologian
353 E Clinton Ave
Tenafly, New Jersey, United States

Get Directions


Obituary of George G. Makris
Please share a memory of George to include in a keepsake book for family and friends.
In Loving Memory of George G. Makris
George G. Makris of Cresskill, New Jersey, peacefully passed away on July 22, 2023. Born on May 26, 1936, in the village of Potamianata, on the beautiful island of Kefalonia, Greece, George was the youngest of four children born to Gerasimos and Dionisia Makris.
George's life was a testament to resilience and perseverance, having endured the challenges and hardships of World War II during the occupation of military forces and the consequences of the Civil War. Despite facing adversities, he never lost his determination to succeed.
After attending high school in Corfu, and narrowly missing the devastating earthquake that destroyed much of his family's home in Kefalonia, George embarked on a life-changing journey to the United States. Serving as an assistant captain on a freighter, he courageously jumped ship to begin a new chapter as a citizen of the United States after serving in the United States Army.
In the U.S., George was warmly welcomed by his Uncle Argiris Fantis, who embraced him as one of his own. He pursued higher education in New York and quickly assumed the role of company president at a young age, marking the beginning of a successful career in the Greek food business.
In 1963, George met the love of his life, Julia Hatzyiannis, and they were united in marriage just one day after he received temporary leave from the army. George was shipped and stationed in Germany, where Julia joined him for the first year of their marriage.
George is survived by his loving children, Jerry and Barbara, Steve, and six grandchildren: George, Peter, Stefanos, Jerry, Julia, and Katherine. His legacy lives on through the cherished memories and values he instilled in each of them. He is also survived by his older sister, Irene Magafan, and many nieces and nephews, and preceded in death by his brother Milton and his sister Maria.
A man of unwavering faith and commitment, George and Julia raised their family at the Metropolitan Cathedral of St. John The Theologian in Tenafly, New Jersey, and was a devoted member of numerous other Greek Orthodox church communities in the United States. In 2010, George was honored to become Archon, the honorary title appointed by the Ecumenical Patriarchate, considered one of the highest honors that can be granted to a layperson in the Greek Orthodox Church. He was also a steadfast supporter of his village church in Kefalonia, a place he held dear to his heart and where he will find eternal rest.
George's determination and inquisitive nature were inspiring to all who knew him. Whenever he faced unfamiliar challenges, he fearlessly researched, learned, and overcame obstacles. Quitting was never in his vocabulary, and he approached life with a spirit of resilience.
An avid enthusiast of physical fitness, George maintained an active lifestyle throughout his years. From being an athlete and a daily runner to playing tennis and swimming almost every day, he embraced physical activity as a way to stay energized and vibrant.
In his final years, George enjoyed sharing his life experiences and knowledge with his family, particularly his grandsons, whom he lovingly instructed on business matters. His wisdom and guidance will be forever treasured by those he mentored.
We mourn the loss George G. Makris. May his life's journey inspire us all to face challenges with courage, to persistently pursue our ambitions, and to embrace love and family above all else. May his memory be eternal.
Services for George will be held at the Metropolitan Cathedral of St. John The Theologian in Tenafly, New Jersey with a viewing on Tuesday, July 25, 2023 from 5:00 PM to 8:00 PM, and a funeral service on Wednesday, July 26, 2023 at 11:00 AM. In lieu of flowers, donations may be made in George's memory to the A. Fantis School of Saints Constantine and Helen Cathedral, 195 State St, Brooklyn, NY 11201.
Principal, A. Fantis School
718-624-0501 (tel:718-624-0501)
afantis.org (https://afantis.org/)
ttasoulas@afantis.org (mailto:ttasoulas@afantis.org)
195 State Street, Brooklyn, NY 11201 (https://maps.google.com/?q=195+State+Street,+Brooklyn,+NY+11201)
To Donate to A. Fantis in memory of George G. Makris Online:
(1) Use the following link: https://app.easytithe.com/App/Form/5a858165-dc13-4a5c-90c9-8fe62c4ec147
(2) Text the word "Fantis" to (347)960-5856 (Under FUND select "General Donation" and under SUB FUND select "For A. Fantis School In Memory of George G. Makris")


Share Your Memory of
George