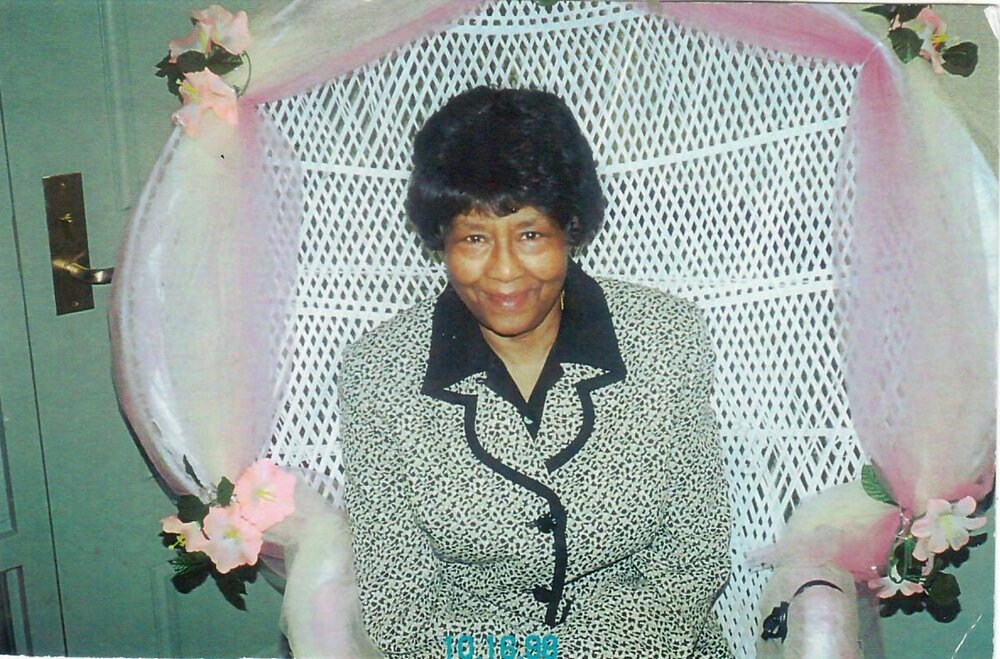 Obituary of Rena Evelyn Long
Please share a memory of Rena to include in a keepsake book for family and friends.
Rena Evelyn Long was born April 15,1930 in Washington, N.C. to the late Mary and Arthur Long.
After completing high school, Rena began studying nursing in Durham, North Carolina. She immediately had a change of heart when she realized the courses included anatomical specimens. Rena was scared to death of dead people!! Rena was invited in the early 1950's by her sister Mary Gladys to spend the summer in New York City. That summer never ended because Rena fell in love and married Wahab Ullah who had recently arrived from Bangladesh and out of this union was born one daughter, Denise Marie.
Later in life, Rena met and remained with her life long companion Dozier Swinton, until his passing and out of that union was born a daughter, Rena.
Rena worked for a designer & importer of ladies Italian handbags, including managing their showroom until her retirement.
Rena shared at the age of 16 years old, a glorious experience of audibly hearing the Lord's voice calling her to follow him. She never forgot this moment and in August of 1981 Rena answered this calling of the Lord, was baptized and gave her life to Jesus.
She became a humble servant, ministering to all.
Sister Long joined Dependable Pentecostal Church in Harlem under the late Pastor Benjamin Cobb. It was there that the Lord called her to be a Mother of Zion and thereby was lovingly known to all as Mother Long.
Along her Christian journey, The Lord deposited a deeper hunger in her spirit for more of HIM and in May of 1991 Mother Long was ordained "Evangelist LONG " by the late Bishop Copeland of the Pentecostal Universal Church of Deliverance .
She later served on the Ministerial Staff at Mount Lebanon Baptist Church under the leadership of Pastor James D. Morrison.
Evangelist Long put her hands to the plow and never looked back. She was called to preach the "GOOD NEWS in many churches throughout New York City. The LORD gave her a holy boldness for HIMSELF. She lived a life of faith, fasting and Prayer.
She would daily rise up early to talk to the Lord, believing Him for the impossible! Her ministry took her into prisons, hospitals and on street corners, handing out tracts, feeding the hungry, preaching, praying and anointing many with oil that she labored over in prayer.
For many years, she would open the church doors every Wednesday for "noonday prayer".
She would accompany many to their doctor appointments, cook a hot meal and often opened her home as a safe haven.
She served on the Mother Board, Missionary Board, as a Sunday School teacher, Mighty Prayer WARRIOR and was a confidant to many. We were all blessed as she sang her favorite song "Because He Lives".
Her favorite words were " Why worry when you can Pray".
Evangelist Long stood on God's promises, often reminding us all of her favorite scripture
Psalm 37:4 Delight yourselves in the Lord and He shall give you the desires of your heart.
In March of 2013, the Lord called Mother Long to a long rest whereby she resided at the Frances Schervier Nursing Home in Riverdale.
The family would especially like to thank all of you for your many visits, telephone calls, cards and flowers during her 9 year residence there.
In the early morning hours on Sunday May 7th, Evangelist Long quietly moved out of her earthly body into her heavenly body, eternal in the heavens.
Evangelist Long leaves to mourn daughter, Denise Marie, grandson Jacob Marcellus (wife) Nafeesah,
great-grandson Jalil and great-granddaughter Imani.
Daughter, Rena Thomas, grandson Ronald W. Thomas II and granddaughter Janay M. Thomas
Sisters Mary Gladys Odehnal of California and Eleanor Elizabeth Long of New York, a host of nephews and nieces, her dear friend Evangelist Rachael McCreary of Ohio and dear friend Sister Samantha Hines of New York, godson, Minister
Alvin Cobb of New York and goddaughter Sister Tina Milton of North Carolina and her church family.
Before joining a Zoom meeting, you must download the Zoom App or go to www.zoom.com.
When joining a zoom, enter the meeting ID number: 2129424000 You will then be asked to enter the password: 2129424000
Select if you would like to connect to audio and/or video.
You can also use the link to attend the zoom meeting.
To send flowers to the family or plant a tree in memory of Rena Long, please visit Tribute Store


Share Your Memory of
Rena