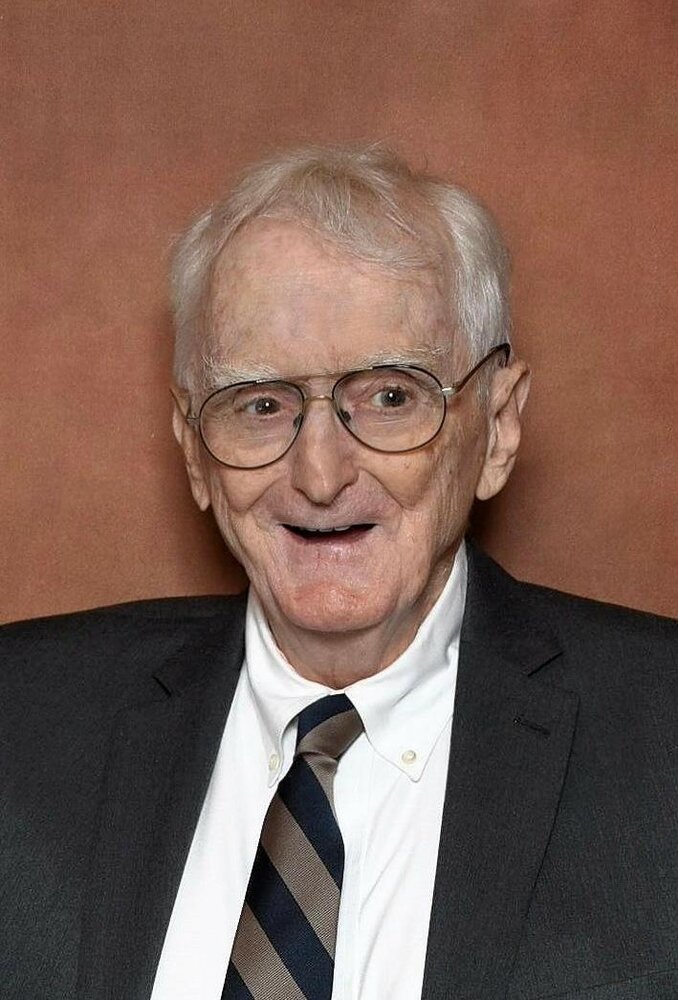 Visitation
4:00 pm - 8:00 pm
Wednesday, April 26, 2023
Riverdale Funeral Home, Inc
5044 Broadway
New York, New York, United States
Funeral Mass
10:00 am - 11:00 am
Thursday, April 27, 2023
Good Shepherd RC Church
Isham & Broadway
New York, New York, United States
Interment
12:00 pm - 12:30 pm
Thursday, April 27, 2023
Calvary Cemetery
49-02 Laurel Hill Blvd
Queens, New York, United States


Obituary of Joseph V Hamilton Jr
Please share a memory of Joseph to include in a keepsake book for family and friends.
Joseph Vincent Hamilton, Jr
March 25, 1930 - April 21, 2023
Joseph Vincent Hamilton, Jr. passed away peacefully on April 21, 2023 at Montefiore Hospital in the Bronx at the age of 93.
Joseph was born in New York City on March 25, 1930 to Joseph Vincent Hamilton and Marian Hamilton (née Walshe). He was the older brother to Jeanne and Robert Hamilton. The family was based in Upper Manhattan and the Bronx, but also spent a brief period in Brooklyn and two-and-a-half years in Pasadena, California living near some of their Walshe relatives.
In 1947 Joseph graduated from Fordham Prep and entered the Jesuit novitiate at St. Andrew-on-Hudson in Hyde Park. He went on to study philosophy at West Baden College in Indiana and theology at Woodstock College in Maryland. He then earned his Master's Degree in history from Fordham University while teaching Latin and history at Fordham Prep. After leaving the Jesuits, he earned a law degree at Georgetown University.
Joe met his future wife Gertude Hamilton (née Kelly) at a family wedding, and they married on August 21, 1965. In Gert he found his perfect life partner: a brilliant intellectual with a heart of gold. Together they raised three children: Jeanne, Joseph, and James. They lived in the Bronx and Staten Island before eventually moving to Inwood where most of their children's families still reside.
Joseph was a litigating attorney for Chase Manhattan Bank, the City Corporate Council, and the New York City Loft Board. He was proud of the fact that he never lost a case in court (including the NYS Supreme Court), with the exception of one, which he had predicted was not winnable. A consummate reader and lifelong learner, Joe amassed an impressive personal library and was constantly devouring books on everything from military history to science. He taught himself Spanish, German, and economics, among other things. After retiring he enjoyed attending summer seminars in theology at Oxford University for several years. He often amazed people with his extensive knowledge of so many subjects. One of his dearest cousins recalled visiting a local Revolutionary War battle site with Joe, and said he easily translated the Latin on the monuments while speaking in depth of all the events that occurred there.
Joseph deeply cared about fostering a spirit of inquiry in his children and grandchildren and making sure that they were well-educated. He would often pass along books to them or clip newspaper and magazine articles about things they were interested in. He valued creating an environment of discovery, and frequently left books and other materials in accessible places to stimulate curiosity and exploration.
Joe described himself as "devoted to chocolate," was a fan of Notre Dame football, went on all of the rides on amusement park trips with his children, enjoyed long walks and swimming and always dreamed of having his own sailboat "...but instead I had three children!" He loved the motto "Don't give up the ship" as an inspiration for himself and his family to persevere through the many challenges of life.
Faith and family were the foundation of Joe's life, and he was a devoted husband, father and father-in-law, grandfather, brother and brother-in-law, son, nephew and cousin. He also maintained many friendships from all stages of his life, including his childhood, all of which he truly treasured.
As he advanced in age Joe was cared for by his wife Gertrude with the help of other family members and many wonderful home health aides. The family is especially grateful to his main aide, Sergio Torres, whose skill and devotion made an enormous difference in Joe's life during his final years.
Joseph is preceded in death by his son Joseph McKenzie-Hamilton and his beloved wife Gertrude, who passed away just one week before he did. He is survived by his daughter Jeanne (Ben) Hamilton-Cruz, son James (Berta) Hamilton, daughter-in-law Sabra, grandchildren Adam, Paul, Sophia, Ben, Brendan, and Annie; brother Robert (Carol) Hamilton, sister Jeanne Hamilton, OSU, and brother-in-law Martin (Mary) Kelly.
The wake for both Joseph and Gertrude Hamilton will take place at Riverdale Funeral Home on Wednesday, April 26, 2023 from 4:00 - 8:00 p.m. The funeral mass will be at the Church of the Good Shepherd on Thursday, April 27 at 10:00 a.m., with interment to follow at Calvary Cemetery located at 34-02 Greenpoint Avenue, Queens, NY. The funeral mass will be livestreamed for those who cannot attend in person: https://www.youtube.com/@Goodshepherdchurchnyc
In lieu of flowers, donations may be made in Joe's memory to the EMS Help Fund (in gratitude to the incredible service of the FDNY EMS), LEAST (a program supporting marginalized or forgotten elderly in San Lucas Tolimán, Guatemala), and Center for Working Families (founded by his good friend Fr. John Halligan, S.J. to provide education, healthcare and basic services to the people of Quito, Ecuador).


Share Your Memory of
Joseph