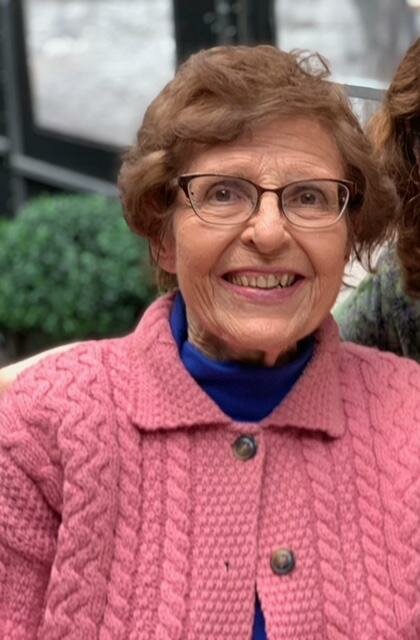 Visitation
4:00 pm - 8:00 pm
Wednesday, April 26, 2023
Riverdale Funeral Home, Inc.
5044 Broadway
New York, New York, United States
Funeral Mass
10:00 am - 11:00 am
Thursday, April 27, 2023
Good Shepherd RC Church
Isham & Broadway
New York, New York, United States
Interment
12:00 pm - 12:30 pm
Thursday, April 27, 2023
Calvary Cemetery
49-02 Laurel Hill Blvd
Queens, New York, United States


Obituary of Gertrude Hamilton
Please share a memory of Gertrude to include in a keepsake book for family and friends.
Gertrude Rose Kelly Hamilton
September 30, 1936 - April 14, 2023
Dr. Gertrude Rose Hamilton (née Kelly) passed away peacefully on April 14, 2023 at Memorial Sloan Kettering Cancer Center in New York City at the age of 86.
Gertrude was born in Manhattan on September 30,1936 to Martin C. Kelly and Gertrude C. Kelly (née Garvin). She grew up in Inwood with her younger brother Martin C. Kelly, Jr. and graduated from Good Shepherd School, then Sacred Heart of Mary High School where she was valedictorian. She went on to earn a degree in English with a minor in classics from the College of New Rochelle, a masters in English from Columbia University, and a PhD in English Literature from the University of Rochester.
She married Joseph Vincent Hamilton, Jr. on August 21,1965 at Good Shepherd Church and together they raised three children: Jeanne, Joseph, and James. They lived in the Bronx and Staten Island before eventually returning to Inwood where most of their children's families still live.
Gertrude was a passionate educator who began her teaching career at two Bronx high schools: the Ursuline School and the Academy of Mount Saint Ursula. She eventually became a professor of English literature at Thomas Moore College of Fordham University where she was the first pregnant faculty member in the school's history. As she raised her family, she completed her doctoral dissertation and taught English at St John's University, Marymount College in Tarrytown and Mercy College, retiring in 2020 at the age of 83.
In addition to her keen intellect, Gertrude was renowned for her joyful personality, incredible energy, community spirit and sense of adventure. She was widely known and loved in Inwood where she played tennis in the park, participated in her local library's book club, took senior Zumba lessons at the Allen Pavilion and was constantly meeting up with her many friends for meals out and local activities. Gert loved traveling, enjoying trips to Europe, Tibet, China, Cuba, Guatemala, India, and South Africa, as well as many parts of the U.S. Her cross-country road trip with her lifelong friend Jane will forever be known to her family as the Thelma and Louise tour.
Gertrude's Catholic faith was central to her identity, and she truly lived it. She served as a lector in every parish she belonged to and volunteered at the Good Shepherd Women's Shelter, the Justice, Peace and Integrity of Creation (JPIC) ministry and the RSHM (Religious of the Sacred Heart of Mary) Life Center. She attended scripture studies in her parish and participated in many other activities there.
As a proud Irish-American, she traveled to Ireland several times and regularly participated in cultural events in the New York area, including Irish Studies seminars at NYU's Glucksman Ireland House. She celebrated St. Patrick's Day with gusto, joining her brother Martin and other relatives to watch NYC's annual parade from their usual spot in front of the Sherry-Netherlands Hotel, attending the annual parish dinner dance, going to concerts by various Irish musicians and hosting a holiday dinner for her family featuring her delicious homemade soda bread.
In fact, Gert would never let a holiday go by without marking it in some way. She was the one who filled the Christmas stockings and made Easter baskets for the whole family and didn't even let Valentine's Day go by without giving handwritten cards and treats to her husband, her children, their spouses and all of her grandchildren.
Above all, Gertrude was known as an incredibly caring person. She was a wonderful mother, mother-in-law, grandmother, daughter, sister and sister-in-law, cousin, friend and neighbor. And she was a loving and devoted wife, dedicating herself to caring for her husband Joe in their last years together. Gertrude is preceded in death by her son Joseph McKenzie-Hamilton and followed by her beloved husband Joseph, who passed away just one week after she did. Gertrude is survived by her daughter Jeanne (Ben) Hamilton-Cruz, son James (Berta) Hamilton, daughter-in-law Sabra, grandchildren Adam, Paul, Sophia, Ben, Brendan, and Annie; brother Martin (Mary) Kelly, brother-in-law Robert (Carol) Hamilton and sister-in-law Sr. Jeanne Hamilton, OSU.
The wake for both Gertrude and Joseph Hamilton will take place at Riverdale Funeral Home on Wednesday, April 26, 2023 from 4:00 - 8:00 p.m. The funeral mass will be at the Church of the Good Shepherd on Thursday, April 27 at 10:00 a.m. with interment to follow at Calvary Cemetery located at 34-02 Greenpoint Avenue, Queens, NY. The funeral mass will be livestreamed for those who cannot attend in person https://www.youtube.com/@Goodshepherdchurchnyc
In lieu of flowers, donations may be made in Gertrude's memory to the RSHM Life Center (where she volunteered for many years), Good Shepherd School (her alma mater which continues to provide quality education to the children of Inwood) , the Maryknoll Sisters (in honor of her cousin Sr. Margaret Rose) or Memorial Sloan Kettering Hospital (in gratitude for their compassionate care for her).


Share Your Memory of
Gertrude