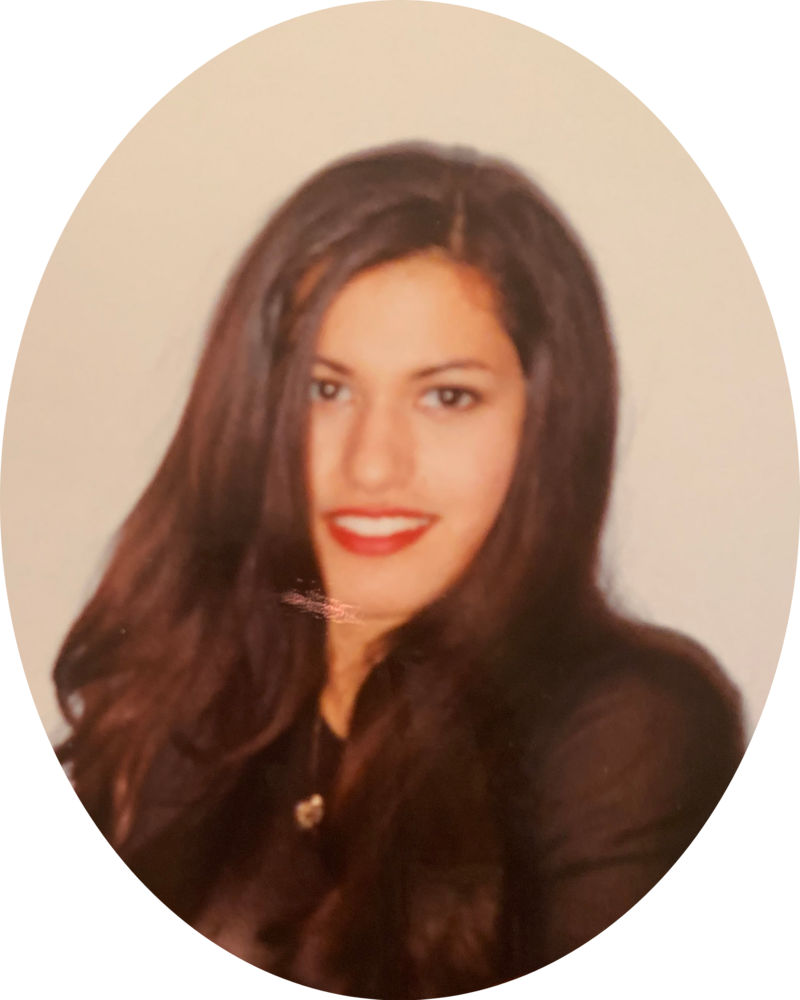 Visitation
3:00 pm - 8:00 pm
Thursday, September 15, 2022
Riverdale Funeral Home, Inc.
5044 Broadway
New York, New York, United States
Funeral Mass
10:00 am - 11:00 am
Friday, September 16, 2022
Good Shepherd RC Church
Isham & Broadway
New York, New York, United States
Interment
12:00 pm - 12:30 pm
Friday, September 16, 2022
Cypress Hills Cemetery
833 Jamaica Ave.,
Brooklyn, New York, United States


Obituary of Gina Morales
Please share a memory of Gina to include in a keepsake book for family and friends.
As we lay the Beautiful woman, Graceful soul, Strong being, our mother, daughter, sister, cousin, friend, Gina Morales to rest in eternal light, she will never be forgotten. She entered into rest on Monday, September 12, 2022. She fought the good fight but now its time for her to rest in the Lord's Paradise. Her smile will live with us as our strength for life. Please join us this Thursday September 15, 2022 from 3:00-8:00pm for her memorial service at Riverdale Funeral Home 5044 Broadway, New York, NY 10034.
The Funeral Mass will be held on Friday, September 16, 2022 at Good Shepherd RC Church, 4967 Broadway, New York, NY 10034 at 10:00am.
Interment to follow at Cypress Hills Cemetery, 833 Jamaica Ave, Brooklyn NY.
In lieu of flowers, please consider donating to our gofundme: https://gofund.me/774aef75 or to plant a tree in memory of Gina Morales, please visit Tribute Store.
Messages from her family & loved ones:
Our brave mother fought leukemia for 10 long months. She put up such a strong fight. God finally gave her peace. The hardest thing we've ever had to do was saying goodbye to our mother and best friend.
There are no words to describe the pain we are feeling now. But it pales in comparison to the pain she went through on a daily basis; receiving intense chemotherapy within her spine, blood & bone marrow, countless procedures & medications, neuropathy in her arms and legs preventing her from being able to walk. That being said, she was a champion throughout every moment, smiling through it all, trying her absolute best. Her main concern was that she didn't want to worry us. Her strength is immeasurable and truly inspiring.
My heart goes out to all those who have experienced loss, the death of a beloved parent, and especially to those who are fighting difficult battles with cancer every day. Stay resilient. I pray that you find the strength you need to keep fighting and striving for a better life every day.
Anyone who has ever met my mom knows her as a beautiful, incredible woman. She gave herself and her talents to this world so generously and selflessly. She loved incredibly hard and her soul was leagues deep.
I love you mommy, you are with us everywhere now. You are our special angel in heaven, I feel you all around me. Until we meet again, your devoted Savannah
My mom, my bestfriend, she was my partner in crime she was always down for anything, any adventure. My mom was creative and that's where I get my creativity from. My mom was the most strongest woman I ever met and I look up to her everyday, she was a warrior. She made friends anywhere she went, anyone who met her fell in love instantly with her unique personality and gorgeous smile. When she would laugh the whole room laughed she lit up any room she walked in. She was such an amazing person. My mom has been through so much and I only ever wished the best for her, it was my job for anytime she felt down I was there to lift her spirits. I believe I helped her get through all the obstacles in her life as well as my siblings. She was loved by many people and those who weren't able to see what an amazing person she was, missed out on her infectious energy and talents. She was caring, loving, passionate, funny. She will be missed so very much but I know she's in a better place and not suffering anymore. I love you ma. I loved you in every condition you were in. Forever and always my angel
Love, Giselle
My Dearest Gina, My Twin Soul we called each other this because we were so much alike in so many ways we had great affinity . There are not enough words in the universe to describe how much you meant to me and I know how much I meant to you, you were this amazing wonderful person, my best friend, the sister I never had . I'm so blessed that a couple of years ago we cross paths together and formed this amazing sisterhood friendship bond that stayed until the very end. I'm glad I got to know you and your wonderful beautiful children and some
Family members ,that you allowed me to be part of your world and you part of Mine.
We shared so many difficult and joyous moments together and we always overcame them because we had each other to lean on . I will miss you so dearly , our laughs , our hang outs , our daily calls . I will miss your presence . My heart is broken now because your are gone , but you are in peace now and in a resting place with the angels . We will meet again one day for sure . I will never forget you because you will always be in my thoughts and prayers in my heart
Love you forever and ever, your bestie Marina
Before joining a Zoom meeting, you must download the Zoom App or go to www.zoom.com.
When joining a zoom, enter the meeting ID number: 2129424000 You will then be ask to enter the password: 2129424000
Select if you would like to connect to audio and/or video.
You can also use the link to attend the zoom meeting.
ALL SOCIAL DISTANCING RULES APPLY; MASKS MUST BE WORN UPON ENTRY WHEN ADDRESSING THE FAMILY PLEASE DO SO USING ALL COVID PROTOCOLS THANK YOU.


Share Your Memory of
Gina