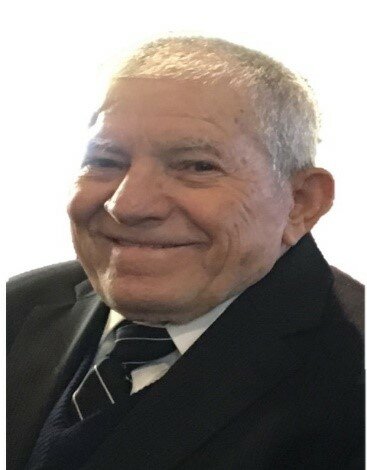 Obituary of Alkiviades C. Papademetriou
Please share a memory of Alkiviades to include in a keepsake book for family and friends.
Alkiviades (Al) Papademetriou (85) from Scarsdale, NY, passed away on Thursday, July 14, 2022. Born on October 11, 1936, in Hohlia Evritania, Greece, Alkiviades was preceded in death by his loving and devoted wife of 44 years, Persephone (Vasilakis), his parents Rev. Constantine Papademetriou and Presv. Ourania (Katsifas) Papademetriou and two brothers, Rev. Spyridon C. Papademetriou (Presv. Metaxia) and John Papademetriou, who died in the Korean War.
He is survived by his two sons: Constantine N. Papademetriou (Katina) of Stamford CT, and George Papademetriou (Margaret) of Eastchester NY, his sister Olga Marudas (Stephan - deceased) of New Port Richey FL and his brothers Rev. George Papademetriou (Presv. Athanasia) of Boston MA, Evangelos Papademetriou (Loukia) of Land O' Lakes FL, as well as his five grandchildren: Alexander, Zachary, Marcus, Johnny, and Niko Papademetriou. He also leaves behind many cousins, nieces, nephews and lifelong friends in the US and Greece, whom he loved very much.
Alkiviades immigrated to the US from Greece with his family, at the age of eleven, and settled in Moline, Illinois before moving to Clairton PA. Later, he served in the United States Army at Fort Bliss TX where he was a member of the Boxing team that won the USATC Post Championship, followed by a long 33-year career in the United States Postal Service, starting in the Bronx, NY and then transferring to Scarsdale, NY, where he retired in 2002.
Alkiviades returned to Greece as a young 29-year-old in 1965 to marry his wife, Persephone, and returned to the US and settled in the Bronx, NY and started a family. Ten years later, Alkiviades and his family moved to Tuckahoe, NY, and lived there eight years before moving to Eastchester NY where he was living for the past 39 years. Since moving to the Bronx and living in the NY area, Alkiviades was an active parishioner of the Holy Trinity Greek Orthodox Church, in Mount Vernon NY and later in New Rochelle, NY. He was a member of AHEPA and the Festival Committee.
Alkiviades was an avid sports fan who followed the Boston Celtics, Pittsburgh Steelers, and Pittsburgh Pirates. He always enjoyed a good conversation with his friends and family about any sport.
The family would like to thank his caretaker, Charlotte Quao, who has cared for Alkiviades for the past ten years, after losing his wife to illness in 2009 and he suffered a stroke shortly after her passing.
The family will receive family and friends Sunday from 4-8 pm at the Westchester Funeral Home in Eastchester, NY. The funeral service will be held on Monday at 12:45 pm at Holy Trinity Greek Orthodox Church, 10 Mill Rd, New Rochelle NY, followed by the interment at Mount Hope Cemetery in Hastings-on-Hudson, NY, and a memorial luncheon back at Holy Trinity Church.
Donations may be made to Holy Trinity Greek Orthodox Church at www.holytrinitynr.org or by mail at 10 Mill Road, New Rochelle NY 10804.
To send flowers to the family or plant a tree in memory of Alkiviades Papademetriou, please visit Tribute Store


Share Your Memory of
Alkiviades