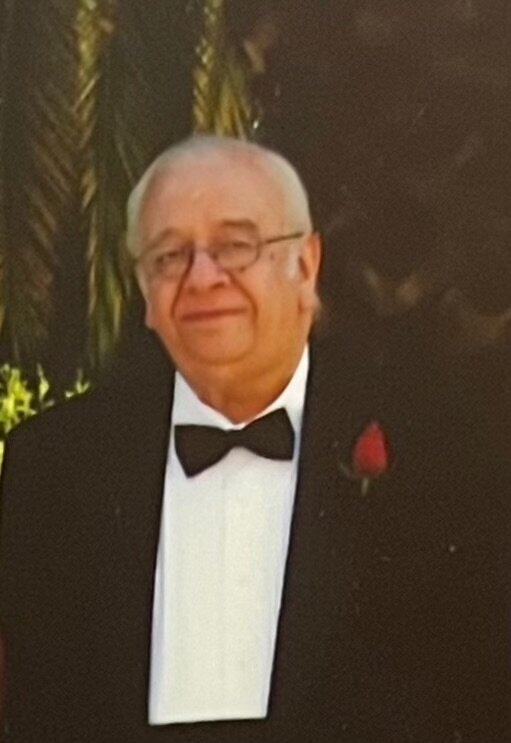 Visitation
4:00 pm - 8:00 pm
Thursday, May 5, 2022
Riverdale Funeral Home, Inc.
5044 Broadway
New York, New York, United States
Funeral Service
10:00 am - 11:00 am
Friday, May 6, 2022
St. Paul & Holy Rosary Roman Catholic Church
113 E 117th St
New York, New York, United States
Interment
11:30 pm - 12:30 pm
Friday, May 6, 2022
Woodlawn Cemetery
233rd And Webster Ave
Bronx, New York, United States


Obituary of Dr. Carlos Navarro
The aroma of pollo empanizado and chile relleno tease and dance through the halls of Dr. Carlos Navarro's apartment while the songs of Juan Gabriel and Linda Rondstant echo against the hardwood floors and picture filled walls.
One out of the five locks on the front door opens. It's 6pm. Abuelo's home. Our white-haired knight in shining armor crosses the threshold in his glasses, crisp button-down shirt (ironed by his granddaughter Kristina), with a Bic pen or two in the shirt pocket, brown tie, slightly oversized blazer to match with shoes, and a smile saved just for us.
You may otherwise know him as Dr. Carlos Navarro, respected pathologist, revered professor, admired colleague, passionate community advocate, adored husband, loved father, and treasured grandfather. To us, he was our silly father/abuelo that blew spit balls at us in restaurants while abuela cringed, who loved practical jokes involving fake bugs and whoopee cushions, who never said no to anything we asked for. Today we celebrate a life lived to its fullest.
Carlos Navarro born on April 28, 1930 to Aurelio and Elena Navarro in Mexico City. His brothers were Alberto, Mario, and Jesus Navarro. He studied at the Universidad Autonoma de Mexico Medical School. After he completed his residencies in Little Rock, Arkansas and St. Louis, Missouri he moved to the Washington Heights neighborhood in 1969 with his wife Isabel Navarro and their five children, Graciela, Francisco, Theresa, Maria, and Monica.
As the years passed, Dr. Navarro grew to be a highly regarded pathologist at Harlem Hospital and at the associated Columbia University Ivy league medical school. His influence on the medical community goes so far as recruiting and mentoring the revered Dr. Bennet Omalu. Dr. Omalu is best known for the identification of traumatic brain injuries, known as Chronic Traumatic Encephalopathy in football players and contact sports athletes. Dr. Navarro was also instrumental in helping immigrant doctors in the complicated and arduous process of attaining their medical licenses. This kind of assistance from Dr. Navarro is what helped these up and coming doctors establish success for themselves and their families.
Dr. Navarro not only made his mark on the medical community but also on the growing Mexican community within Washington Heights. He and his wife began to notice the influx of Mexican immigrants coming into New York City as flower vendors with no support, no resources to healthcare or basic need items, and a lack of knowledge of their rights as immigrants in this country. It was at this point that they began hosting events and fundraisers to raise money for coats, shoe and blankets for the flower vendors. Dr. Navarro often lent his medical knowledge to the community of his fellow Mexicans as well. One of his many gifts was his ability to donate his time and knowledge selflessly. In 2000, Dr. Navarro and his wife formally established their non-profit organization called Casa Mexico. It was something he held dear to his heart and felt deeply called to do. Their non-profit found its home inside St. Paul's Catholic Church. Casa México initially focused on labor rights, but has since expanded its education programming, including English as a Second Language classes, GED classes and computer classes. Casa México also provides referrals for legal aid and medical treatment. Casa México serves a multitude of immigrants, and has since expanded their mission to the South Bronx and Manhattan Valley. This is a part of his legacy that will live on in the lives of young men, women and children whose lives have been touched by Casa Mexico's mission.
His has been a life rich with education, reverence for his Mexican heritage, advocacy for those less fortunate in his community, and unwavering love and support to his wife, children, grandchildren, and great grandchildren. He was in the business of changing lives for the better and providing opportunities with no strings attached.
He was larger than life, and yet he was a simple man that reveled in his spiritual relationship with God and the Catholic church. To say he was a provider is an understatement. He gave endlessly from his pocket, his heart, and his soul. He instilled in his children a passion for education and community that has led him to be the proud father of five successful post graduate level adults that all brilliantly give back to their community. His oldest daughter Graciela, a skilled and respected principal and educator in the South Bronx. Francisco, his only son, a Senior Advisor to the New York City Mayor. Maria, a highly esteemed federal immigration judge. Theresa, an innovative and regarded Urban Economic Coordinator for the City of Oakland, California. Monica, a patient and compassionate Occupational Therapist, virtues also instilled by their father. He is the doting grandfather to 15 grandchildren, Kristina, Sonia, Rebeka, Alicia, Jewel, Tara, Rachel, Samuel, Lauren, Jonathan, Mary, Michael, Elizabeth, Sophia and Olivia. He is also the blessed great grandfather to 4 great grandchildren:Isabel, Elena, James, and Roman.
This was our father/abuelo; who saw the light in our dark, who embraced our shadows patiently, who celebrated our wins as if they were his, who's heart hurt by any of our losses, whose side job was telling silly jokes in hopes of catching a smile from you as he cackled only the way he could with his hand over his mouth. He shared himself with all of us, never making it seem like he was at all spread too thin. We'll miss birthday celebrations in the dining room with that chocolate cake with the strawberries on it from Carrot Top, laying on the couch while you watch the news, trying to steal the remote control from you after you dozed off in the loveseat, stealing your pen from your shirt pocket, walking to St. Patrick's cathedral from Washington Heights for mass, ironing your shirts for work, eating your Pops cereal and drinking your diet coke.
Thank you for sharing yourself with all of us. We'll see you in a stranger's smile, feel your embrace in a deep long dream, hear you in gusts of winds pushing us forward on our paths, and find your spirit lurking in the fragrances of mole, picadillo, tortillas, concha's, pan tostado y cafe
In lieu of flowers, donations can be made to St. Paul and Holy Rosary Church


Share Your Memory of
Dr. Carlos