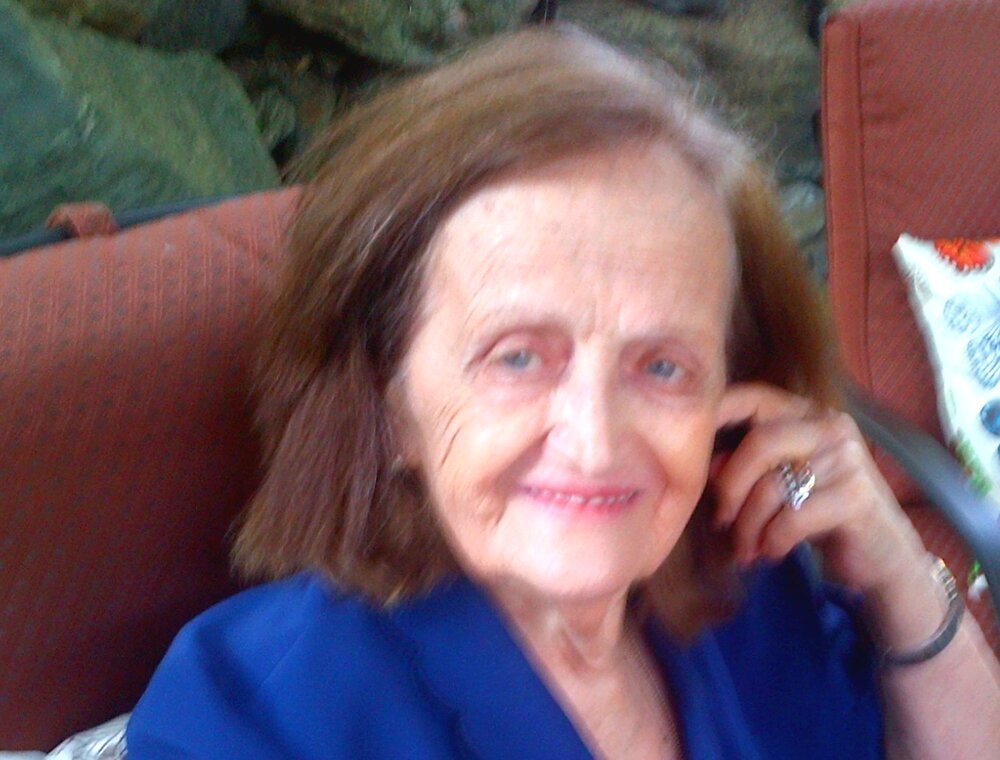 Obituary of Agatha G. Vonglis
Agatha George Vonglis (nee Coutsoubinas), passed away on December 24, 2021. The daughter of George and Olga, she was born March 18, 1926 in Ioannina, Greece, and raised on Corfu. Her father served as Vice Consul of Greece in Saint Sarande, Albania, leading up to World War II. Among his recognitions for wartime service, he was awarded the Medal for Outstanding Acts. In 1949 the family arrived in the United States as a result of her father's posting to the Greek Embassy in Washington, D.C., where Agatha worked for the Hechts Company and Riggs Bank. After her father's untimely death in 1958, the family moved to New York, where she met her husband Gregory. Agatha worked at the Bankers Trust Company until the arrival of her sons John and George, whereupon she focused on for her, the most important and fulfilling role in life, that of mother. Petite in stature, she was huge in heart and spirit, always giving to others less fortunate. Despite witnessing the horrors of war and occupation, she never lost faith in the goodness of humanity. Ever the optimist, she not once uttered a single word of complaint. Staunchly proud of her Hellenic heritage and Greek Orthodox faith, she was an equally proud American, and of her sons' accomplishments, whom she adored above all else. Although not twins, throughout their youth she dressed them identically so as to impress upon them equality and limit natural, sibling rivalry. A great cook, she loved to laugh and enjoyed music, traveling, and classic comedy television and movies, with 'Wuthering Heights' a perennial favorite. Quick witted and full of humor, Agatha was a generous, tender, accepting, and kind hearted soul, but also strong willed and resolute in her convictions. She was a passionate and early advocate for animal rights, and always sided with the underdog. All told, her proudest achievement was her family. She will be missed sorely by them, and all who knew her. Agatha is predeceased by her husband Gregory, much adored daughter-in-law Carol (who unexpectedly passed away on December 11th 2021), her father George, mother Olga, brother Speros and his family, Kalliope and their young son, George. She is survived by her beloved sons John and George and numerous relatives here, and abroad.
In lieu of flowers, donations may be made to St. Jude's Children's Research Hospital, Shriners Hospital for Children, the ASPCA, Disabled American Veterans, or a charity of your choice.
To send flowers to the family or plant a tree in memory of Agatha Vonglis, please visit Tribute Store
Visitation
4:00 pm - 8:00 pm
Wednesday, December 29, 2021
Riverdale Funeral Home, Inc.
5044 Broadway
New York, New York, United States
Service
11:00 am - 12:00 pm
Thursday, December 30, 2021
Saint Spyridon
124 Wadsworth Ave
New York, New York, United States
Burial
1:00 pm - 1:30 am
Thursday, December 30, 2021
Mount Hope Cemetery
50 Jackson Ave
Hastings-On-Hudson, New York, United States


Share Your Memory of
Agatha