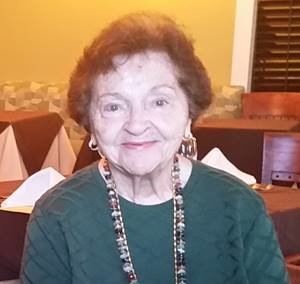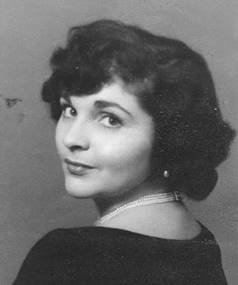 Obituary of Maria A Govier
Maria Govier (née Anos), of New York, NY, peacefully departed this earthly realm on the morning of Thursday 25 March 2021 at Calvary Hospital, Bronx NY. She was 91 years of age.
A gathering celebrating Maria's life will be held at Riverdale Funeral Home on 22 May 2021 from 1pm to 4pm. Interment at Ferncliff Cemetery, Ardsley NY will take place at a future date. Additionally, a memorial service at St. Mary's Episcopal Church, Harlem, is scheduled to be held on 23 October.
Maria was born in New York on 24 October 1929 to William Anos (Vlassis Aninos) and Margaret (Maggie) MacDonald, an unlikely immigrant couple with a romance only possible in NYC. Growing up in the Manhattanville section of Harlem during the Great Depression, she attended PS43 and George Washington High School. Maria and her family were parishioners at St. Mary's Episcopal Church, where she met and later married her future husband. After graduation, Maria embarked on a secretarial career with the Engineering Department of the Port Authority of New York & New Jersey. She married fellow GWHS classmate Robert (Bob) Govier in 1952 and the newlyweds settled in Washington Heights after he completed his service in the US Army.
Stopping out in 1957 to raise a family, Maria re-entered the workforce 10 years and 2 boys later, becoming an executive secretary at Washington Federal Savings & Loan Association where she spent most of her professional career. Through night courses, she honed her financial skills and was ultimately rewarded with a promotion to Mortgage Officer at that same institution. Maria finished her career in banking at First Nationwide Bank as Mortgage Officer, Mortgage Originations. Retiring in 1996, Maria her husband Bob split their time between their apartment in NYC and their vacation homes in Duck Harbor PA and Bradenton FL.
Fiercely independent, Maria could be characterized as 'energetic' and 'spunky'; climbing up and down the hills of Washington Heights well into her late 80's. She carried on the positive outlook bestowed by her immigrant parents and, in similar fashion, worked hard to achieve a better life for her family. Like her mother before her, Maria was gregarious almost to a fault, stopping regularly to chat with neighborhood folks on the street and in Bennett Park, especially if there were babies or dogs involved. She particularly enjoyed staying in touch with friends and family via greeting cards; if she did have one vice it was her fondness of chocolate. But most of all, Maria cherished her family and friends and the time spent with them. As she was so loved, Maria will be missed by the so very many people whose lives she touched.
Maria is survived by her husband of 69 years, Robert Govier, her son Glenn Govier and his wife Marian Mastrorilli of Huntington NY, her niece Kathleen Price of Bradenton FL and her daughter-in-law, Monique Daniel and her grandchildren, Joshua & Sarah Govier. She is preceded in death by her parents, her sister, Theonie White of Honesdale PA, her son, Cliff Govier and her brother, John (Jackie) Boyd of Kilburnie, Scotland.
In lieu of flowers, memorial donations may be made to the Alzheimer's Foundation and the North Shore Animal League. Bob, Glenn and Marian would like to thank all of their family and friends who have provided support and encouragement during these difficult months and to all who have expressed their condolences. The family also wishes to extend their gratitude to the Columbia Doctors Primary Care Nurse Practitioners Group, VNSNY Hospice & Palliative Care Group and Calvary Hospital.
Memorial gathering to be held at Riverdale Funeral Home, Inc 5044 Broadway, NY on Saturday May 22, 2021 1-4pm.
Please join us via Zoom on Saturday May 22, 2021 at 1pm.
Before joining a Zoom meeting, you must download the Zoom App or go to www.zoom.com.
When joining a zoom, enter the meeting ID number: 2129424000 You will then be ask to enter the password: 2129424000
Select if you would like to connect to audio and/or video.
You can also use the link to attend the zoom meeting.
ALL SOCIAL DISTANCING RULES APPLY; MASKS MUST BE WORN UPON ENTRY WHEN ADDRESSING THE FAMILY PLEASE DO SO USING ALL COVID PROTICOLS THANK YOU.
To plant a tree in memory of Maria Govier, please visit Tribute Store
Memorial Gathering
1:00 pm - 4:00 pm
Saturday, May 22, 2021
Riverdale Funeral Home, Inc.
5044 Broadway
New York, New York, United States


Share Your Memory of
Maria