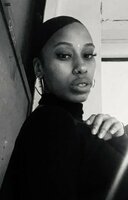 Raysa Francis
Raysa Francis passed away on Sunday, December 25, 2022, after a brief battle with cancer. She was 39 years old.
Raysa was born on March 08, 1983, in New York City to Vianela Francis and Ramon Aquino. Her parents moved her to Vailsburg a neighborhood in the city of Newark when she was an infant where she resided with her beloved grandmother Mami Munsu. At the age of 12 Raysa returned home to live with her mother in New York City where she attended George Washington High School.
From the moment she was born, Raysa's inner cheerful spirit seemed to always shine. Everyone loved her immediately. It's easy to love babies, but the older Raysa grew, the more endearing people found her. She never had a shortage of friends and family who wanted to spend time with her, from her first to her final day with us.
In every way, Raysa embodied the saying, "live your life to the fullest." She enjoyed listening to stories and telling her own-- history was her favorite subject. She found a thrill in tasting new foods and trying new things. You could come to Raysa exactly as you are, and she would love, accept and be proud of you regardless of your flaws or differences.
Raysa loved all of her close ones deeply and with her entire soul. But her siblings, their children and her mother held a very special place in her heart.
Raysa left behind a loving mother, Vianela Francis, sisters Jenny and Priscilla brothers Rudy and Elvin (Dominican Republic), her loving nieces and nephews (Ruddy, Ruthdelania, Raicelys, Anahis, Destiny, Chastity, Ashley, Eliezer, Melenie, Eshley, Bella and Jah'zyah, and a slew of aunts/uncles/cousins and close friends who will miss her dearly.
Celebration of the life of Raysa Francis on Saturday, January 7, 2023, from 9 am - 11 am at Riverdale Funeral Home, 5044 Broadway New York, New York, 10034
Interment at 1:15 pm - 2 pm on Saturday, January 7, 2023, at Rosedale Cemetery, 408 Orange Road, Montclair NJ 07042
Before joining a Zoom meeting, you must download the Zoom App or go to www.zoom.com.
When joining a zoom, enter the meeting ID number: 2129424000 You will then be ask to enter the password: 2129424000
Select if you would like to connect to audio and/or video.
You can also use the link to attend the zoom meeting.
ALL SOCIAL DISTANCING RULES APPLY; MASKS MUST BE WORN UPON ENTRY WHEN ADDRESSING THE FAMILY PLEASE DO SO USING ALL COVID PROTOCOLS THANK YOU.