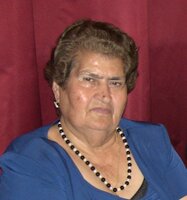 Lemonia Papavasilakis
Lemonia Papavasilakis entered into rest on Monday, November 7, 2022.
Loving mother of Konstantinos and Rosangel Papavasilakis, and Evangelos and Despina Papavasilakis. Cherished grandmother Jimmy and Jalile Papavasilakis, Christina Papavasilakis, Alexia Papavasilakis and Nicoleta Papavasilakis. Beloved great grandmother of Emilia Papavasilakis. She will truly be missed by many other relatives here and in Greece.
Visitation will be at SInatra Memomorial Home 499 Yonkers Ave. Yonkers, NY 10704 on Wednesday, November 9, 2022 from 6pm to 9pm.
Funeral Service will be at Prophet Elias Greek Orthodox Church, 15 Leroy Ave. Yonkers, NY. 10705, on Thursday, November 10, 2022 at 10:00 am.
Burial will follow at Mount Hope Cemetery, 50 Jackson Ave., Hastings on the Hudson, NY 10706 on Thursday, November 10, 2022. May Her Memory Be Eternal!!
In lieu of flowers donations can be made to Prophet Elias G.O. Church, 15 Leroy Ave., Yonkers, NY 10705.