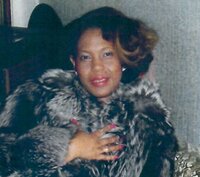 Ruby Midgette
In Loving Memory of Ruby A. Tatum Midgette
Ruby began lifes journey on December 29, 1941 in Delta Alabama in Clay County. On Saturday October 1, 2022 she transitioned to her Heavenly Home.
She was the youngest daughter of the late Len B. and Daisy Mae Hines Tatum. Ruby gave her life to Christ as her Lord and personal Savior at an early age as a member of Mt. Oline Baptist Church of Heflin Alabama.
Ms Midgette was graduated from Cleburne Country High School. Then she left for New York to begin a new chapter in her life. She worked her way through school as a domestic house keeper while studying to acheive her nursing certificate. After doing so she persued a career in nursing at Calvary Hospice where she cared for her patients lovingly for over 20 years.
She leave behind her six sisters; Shirley Herron of New York City, Cherrie Joyce Schoultz of Jamaica, New York, Priscilla Ashford and Lenear Herron of Anniston Alabama, Cecil Mae Pearson (Billy) of Lincoln Alabama and many nieces and nephews, grand nieces and nephews also a whole host of relatives and friends and Mrs. Elizabeth Jean Henry of Indianapolis Indiana to cherish thier memories of Ruby. In addition to her parents she was predeceased by her brothers Nathaniel Whitt Herron and Ellis Delen Tatum.
Her family will be present here at the Riverdale Funeral Home, 5044 Broadway at the corner of 214 Street On Monday October 10, 2022 from 3-7 PM. Her funeral service will be celebrated on Tuesday October 11, 2022 at 10:00 AM at the Fuenral Home , the Rev Dr. Gloria L. Bradshaw Officiating. Her interment to follow in Oakland Cemetery, Yonkers NY.