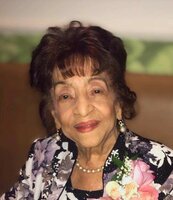 Elsa Maria Jimenez De Vasquez
Elsa Maria Jimenez De Vasquez entered into rest on Wednesday, September 7, 2022.
Visitation will be held at the Riverdale Funeral Home 5044 Broadway, New York, NY 10034 on Tuesday, September 13, 2022 from 4pm to 8pm.
Funeral Mass will be held on Wednesday, September 14, 2022 at Our Lady Queen of Martyrs, Located on 91 Arden Street New York, NY mass will begin at 10:00am.
Before joining a Zoom meeting, you must download the Zoom App or go to www.zoom.com.
When joining a zoom, enter the meeting ID number: 2129424000 You will then be ask to enter the password: 2129424000
Select if you would like to connect to audio and/or video.
You can also use the link to attend the zoom meeting.
ALL SOCIAL DISTANCING RULES APPLY; MASKS MUST BE WORN UPON ENTRY WHEN ADDRESSING THE FAMILY PLEASE DO SO USING ALL COVID PROTICOLS THANK YOU.