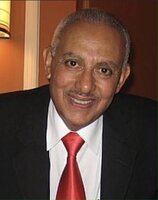 Luis Euclides Ruiz
It is with a heavy heart that we announce the passing of our father Luis Euclides Ruiz at the age of 79 on September 21,2021. Luis is survived by his dear mother Alida, loving children Judith, Luis, Kristy & Roderick, his 6 grandchildren and 4 great grandchildren.
Luis was born in Dominican Republic in January 1942 and came to the USA at the age of 17. Music was his greatest joy. He was an avid dancer and amazing singer. He Enjoyed Life to the FULLEST!
To an exceptional son and father, we Love you and you will live on in our hearts and memories forever.
Viewing at Riverdale Funeral Home, Inc, 5044 Broadway, New York, NY on Friday 4-7pm.
Please join the viewing via zoom see instructions below:
Before joining a Zoom meeting, you must download the Zoom App or go to www.zoom.com.
When joining a zoom, enter the meeting ID number: 2129424000 You will then be ask to enter the password: 2129424000
Select if you would like to connect to audio and/or video.
You can also use the link to attend the zoom meeting.
ALL SOCIAL DISTANCING RULES APPLY; MASKS MUST BE WORN UPON ENTRY WHEN ADDRESSING THE FAMILY PLEASE DO SO USING ALL COVID PROTICOLS THANK YOU.