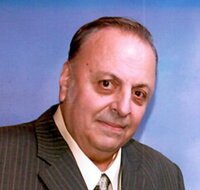 Jospeh J. Mosca Sr.
It is with a heavy heart that we announce the death of Joseph J. Mosca Sr. who died on August 29, 2021 at the Calvary Hospital with his cherished family at his side. Joseph was born on June 11, 1936 in Mt. Vernon NY. to Carmine and Madeline (nee Arichiello) Mosca. He graduated from Eastchester High School then joined the U.S. Army in 1957 and served until 1963.
On June 28, 1963 Joe married the love of his life, Yvonne (nee Jouret) Mosca the couple enjoyed 58 years of marriage. They were inseparable. Where you saw one you saw the other. Mr. Mosca was a plasterer by trade but he left the trade and joined his brother in the J&J Mosca Caterers of Eastchester.
Joe served on the Board of the building at 472 Gramatan Ave. for fourteen years. Although Mr. Mosca had become handicapped he always found a way to help everyone in the building if they needed it. He was known to everyone as a kind and caring person.
Joseph is survived by, his heart broken and devoted wife, Yvonne; his loving daughter Lynn Yvonne Mosca/Rothman, son Daniel James Mosca and two cherished grandchildren Adam and Erika Rothman. He is pre deceased by his son Joseph J. Mosca Jr.
The family will be present to receive friends on Tuesday from 4-8 PM at The Westchester Funeral Home Inc, 190 Main Street Eastchester, his funeral Mass will be celebrated on Wednesday Sept 1, 2021 at 9:30 AM at The Immaculate Conception Church, 53 Winter Hill Road, Tuckahoe, with the interment to follow in St. Mary's Cemetery, 399 North Street, Greenwich Ct.