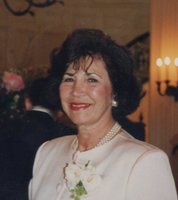 Anna Chivily
Anna Chivily (nee Dimitriou), age 87, passed away peacefully at home on May 2, 2021, Greek Orthodox Easter. Anna had battled Parkinson's disease and related ailments for many years but faced these challenges bravely. Ultimately, she died in her sleep from natural causes after having spent her last week surrounded by her loving family.
Anna was born in Kastoria, Greece August 17, 1933 to Zisis and Theano Dimitriou. When Anna was 6 yeasrs old, in advance of WWII, her father moved her, her mother, older brother and sister from Kastoria to Washington Heights in Manhattan. Upon arriving in Manhattan, Anna joined a vibrant Greek community with her childhood revolving around family, friends, school and church.
Anna married John Chivily, the love of her life, on Novermber 22, 1959 and ultimately they settled in Dobbs Ferry, New York. Anna spent the next 33 years in Dobbs Ferry where she and John raised their three children, Nicholas, Theanne and Alexandra Anna devoted her time and energy to being a great mother and wife. She also cultivated many loyal friendships which spanned her entire adult life. When in 1983 John's life was tragically cut short, those friendships and family helped her rebuild her life as a successful single mother. Anna was known to her children and friends as someone who had fabulous style, grace and great taste in all elements of her dress, home and life. She was a joy to those who knew her.
In 1993, Anna relocated to White Plains, New York just in time to greet over the next ten years what became the greatest pleasure of her later years, her six grandchildren, Cassondra, Harrison, Anastasia, Emma, Sophia and Alexa. She was a devoted and loving grandmother. She was always excited to help take care of her grandchildren and spent countless hours with them. She is greatly loved and will be missed.
In addition to having been predeceased by her late husband, John, Anna was predeceased by her parents, her sister, Angie and her brother Chris. She is survived by her three children, Nicholas (Christine), Theanne (Matthew) and Alexandra (Joseph) her 6 grandchildren, numerous nieces and nephews and many wonderful friends.
In lieu of flowers, donations can be made to Michael J. Fox Foundation for Parkinson's Research (MichaelJFox).org) or St. Michael's Home (stmichaelshome,org).