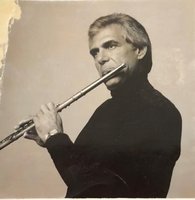 Gus Vallis
The world has lost one of its brightest lights. Gus Vali, aged 92 years old, passed away on March 31st, 2021—20 years to the day since the passing of his older brother, Steve. The youngest of four siblings, Gus will now be reunited with his brothers, Steve and John, and sister, Euthie. He loved them all very much and is no doubt looking forward to enjoying a cup of coffee with each of them in the kingdom of heaven.
Many people knew Gus Vali as one of the most famous Greek-American artists of the 20th century. However, he started out as nothing more than a devout lover of music. As a boy, he studied and practiced every day, eventually earning his master's degree from the esteemed Manhattan School of Music. While attending university, he was accomplished in both the saxophone and clarinet, but it was his rich, warm sound on the flute that earned him a recommendation to the NY Metropolitan Opera. He also served in the 86th Army Band in Fort Devens, MA from 1951-1953.
Gus' passion for jazz brought him on the road where he played saxophone alongside some of the most proclaimed big band performers of the time, such as Johnny Long and Louis Prima. It was from this experience that Gus went on to become one of the most sought-after studio musicians of the 60's and 70's. With a hypnotic style on the clarinet – and an innate ability to command the stage – it wasn't long before Gus became a headline act of his own, recording over 40 beloved albums on the United Artist and Musicor labels. He will always be remembered as a true innovator, mixing Greek and mainstream music to create a sound that was unlike anything else before it or after.
His second act brought the creation of Vali Music, where along with his two sons, Gus spread the gift of music, entertainment, and excitement to generations of Greek Americans, crisscrossing the United States and Europe to play at some of the most prestigious church and social events. Anyone who was lucky enough to see Gus live would tell you he was more than a musician; he was a person you wanted to be around. Everyone has a Gus Vali story, and each one is more colorful and outrageous than the last.
Gus could bring a smile to your face without saying a word. He was effortlessly comfortable in his own skin and the definition of "cool." He truly was the man, the myth, the legend—or as some might call him, the "Maestro," or maybe "Costa." But to us, he will always be Dad and Popou above all else.
A native of Queens, Gus loved the beach and being in the sun. He loved hamburgers, Bud Lights, good wine, and classical music. He loved art and museums. He loved running (completing eight NYC marathons after the age of 50). He loved the Giants, the Yankees, and the Knicks—although he couldn't tell you much about who was on any of the teams. He loved black coffee and flirting with pretty girls. He loved bright colored t-shirts and cashmere turtlenecks. He loved conversations and silence just the same. He loved his family most of all. And we loved him back, and always will.
Gus is survived by his two sons, four grandchildren, and six great grandchildren. His eldest son, Dean, was Gus' caregiver in the last few years of his life and he will forever treasure those special times that drew them even closer together as father and son. In lieu of flowers, please send donations to the Newark Boy's Chorus at www.nbcs.us.
Private Service will be held at Holy Trinity Greek Orthodox Church, New Rochelle, NY.
Internment will be held at Ferncliff Cemetery, Harstdale, NY.
May His Memory Be Eternal!
Although, there is a private service at Holy Trinity GO Church, family and friends are invited to join virtually on Zoom at 12Noon for the funeral service.
Before joining a Zoom meeting, you must download the Zoom App or go to www.zoom.com.
When joining a zoom, enter the meeting ID number: 2129424000 You will then be ask to enter the password: 2129424000
Select if you would like to connect to audio and/or video.
You can also use the link to attend the zoom meeting.
ALL SOCIAL DISTANCING RULES APPLY; MASKS MUST BE WORN UPON ENTRY WHEN ADDRESSING THE FAMILY PLEASE DO SO USING ALL COVID PROTICOLS THANK YOU.