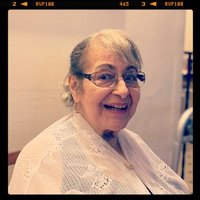 Louise Ann Mendez-Flores
Louise Ann Mendez-Flores, 82, passed away on April 10, 2021. The oldest of two daughters, Louise was born on May 12, 1938 in New York City.
Louise had a full life, discovering teaching as a passion at an early age. As a nun in the convent at 18, she began her teaching career and was an educator for almost 50 years. Her life experiences as a 1st generation American from Puerto Rican parents shaped the educator that she was. After many years of teaching in Catholic schools, she transitioned to public school and was drawn to bilingual education. Bilingual education in the 19
7
0's was incredibly challenging and she was often given the smallest classrooms, least resources and multi-grade classes. Nonetheless, none of this ever dampened her spirit and she was incredibly resourceful and creative. She found ways to bring music, art and fun into her classroom, differentiating her lessons in the most brilliant ways, oftentimes working until late at night crafting these lessons. She not only urged students to maintain their pride in their home country, but also helped them understand the customs and traditions of the American culture.
She married Wilson Flores and they had one daughter, Elizabeth Flores, who would also go on to become an educator.
Louise loved singing, playing the guitar and piano, reading, being a grandmother, making her own greeting cards on the computer, and learning new things. Louise was incredibly generous and thoughtful of others, always sending a box of chocolates, a homemade card and other gifts during holidays and other celebrations.
In the spirit of Louise's generous and giving spirit, in lieu of flowers, please make a donation to "Cycle for Survival", "Team James" . This is an organization near and dear to our heart, as we lost our beloved 7 year old cousin to rhabdomyosarcoma, a rare form of cancer, almost 3 years ago.
Louise is survived by her husband of over 40 years, her daughter, her two grandchildren, Rachel and Hannah, her sister Frances, her three nieces and the many friends and family who loved her.
Memorial service will be held from 11-1pm on Saturday, April 24th at Riverdale Funeral Home, Inc., 5044 Broadway, NY, NY 10032. This will include a small service as well and a Zoom option will soon be available for those unable to attend in-person.
Before joining a Zoom meeting, you must download the Zoom App or go to www.zoom.com.
When joining a zoom, enter the meeting ID number: 2129424000 You will then be ask to enter the password: 2129424000
Select if you would like to connect to audio and/or video.
You can also use the link to attend the zoom meeting.
ALL SOCIAL DISTANCING RULES APPLY; MASKS MUST BE WORN UPON ENTRY WHEN ADDRESSING THE FAMILY PLEASE DO SO USING ALL COVID PROTICOLS THANK YOU.