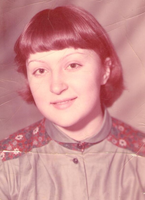 Maryana Efimova
Maryana Efimova entered into rest on Sunday, April 4, 2021.
Calling hours will be Thursday, April 8 from 4-8pm at Riverdale Funeral Home, Inc., 5044 Broadway, New York, NY.
ALL SOCIAL DISTANCING RULES APPLY; MASKS MUST BE WORN UPON ENTRY WHEN ADDRESSING THE FAMILY PLEASE DO SO USING ALL COVID PROTICOLS THANK YOU.